AATCC Review (1 year; 6 issues)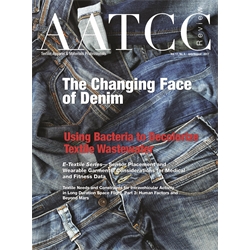 Description
AATCC has published textile research and news since 1969. The current, award-winning AATCC Review journal covers fibers to finished products, and chemical synthesis to retail practices.
Agency subscribers, please complete the downloadable agency form or contact Bliss Coleman for 10% discount.
AATCC Members, a subscription to AATCC Review is included in your membership. You do not need to add this item to your order.
Downloadable Order Form (Agency)